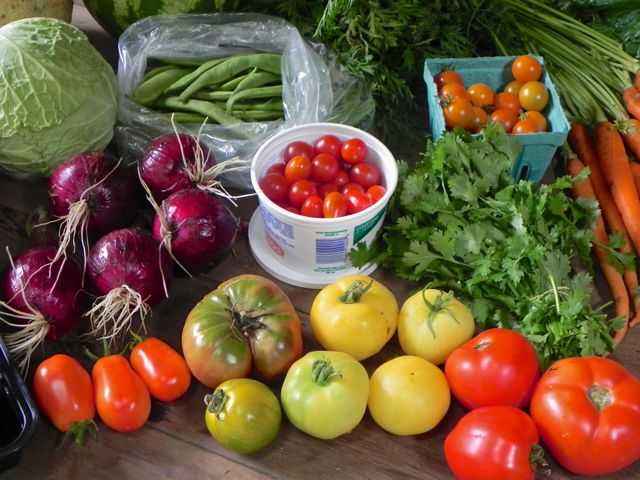 Examples of seasonal offerings

lettuce
mesclun mix
baby spinach
radishes
beet greens
rhubarb
kale or chard
mixed Asian greens
scallions
herb bunches (parsley and chives)
lettuce
mesclun mix
scallions
garlic scapes
baby carrots
snow or snap peas
seasonal greens
beet greens
adishes
broccoli
herb bunches (cilantro and basil)
heirloom tomatoes
bell & frying peppers
green beans
broccoli
carrots
onions
seasonal greens
fennel bulbs
cherry tomatoes
cucumbers
beets
garlic
herb bunches (2 basil flavors)

And of course all the zucchini you care to eat!
Late season (late September)
mesclun mix
tomatoes
green beans
leeks
beets
carrots
kale or chard
potatoes
cauliflower
cabbage
Brussels sprouts
Asian greens
edamame soybeans
winter squash
mixed herbs
We grow a variety of veggies and fruits, many heirloom varieties and some hybrids. Some of our favorite things to grow are greens, brassicas, hot peppers, winter squash, herbs and berries. These might even be our favorites to eat. We are planting more forest gardens, and anticipate a future full of fresh fruits, nuts and perennial vegetables. Maybe this will be the year that the Hardy Kiwis bear fruit.