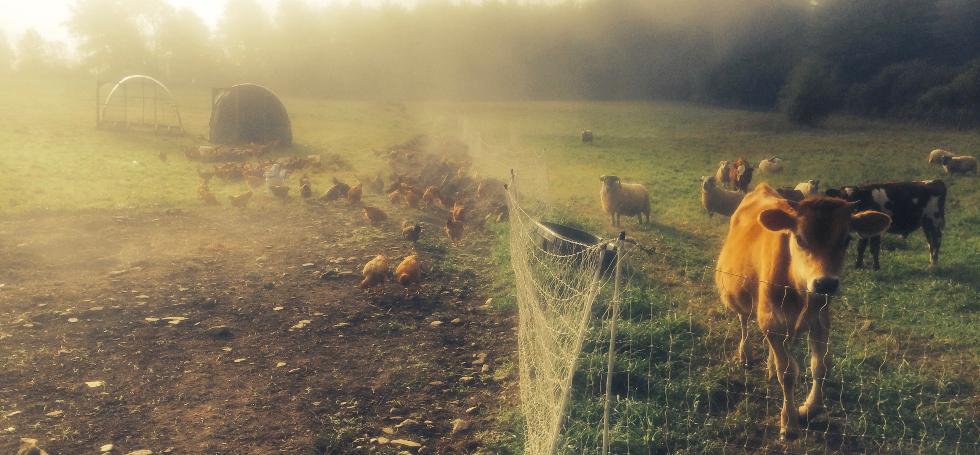 WELCOME TO VILLAGE ROOTS
Village Roots is a diversified farm on the Orchard Hill Community in East Alstead, NH that uses a holistic approach to food production. We use intensive integration of plant, animal and fungal systems to produce high quality food, while striving always to build fertility.

Our passion for permaculture has allowed us to work with, rather than against the land that we steward. It is our goal to use and share this approach as a means by which to rekindle the rich legacy of food production in our region. By building diverse and interdependent farm ecosystems, with humans as keystone species, we can heal land, build soil, sequester carbon and secure our local food network.

As producers, we specialize in pasture-raised meats, extended season vegetables, herbs and fruits. We are experimenting with more perennials, and hope to offer more pick-your-own fruit in the future as well as nuts and nursery trees.

In addition, Village Roots grows, designs and implements systems that include renewing fertility, perennial food production and natural building as fundamental components needed to establish regenerative human habitat.
Crowd Fund Barn Raising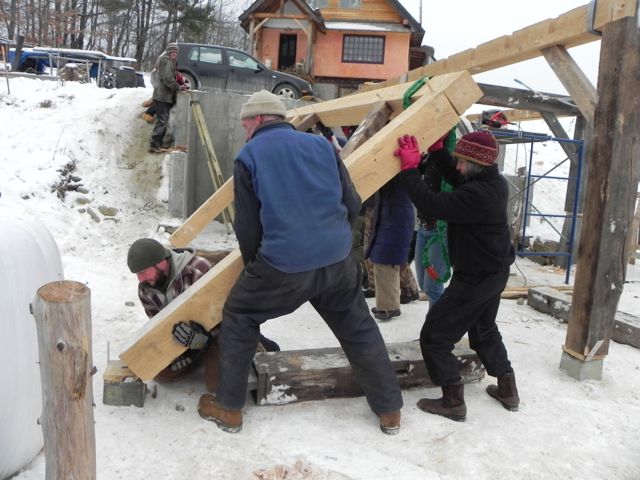 On March 30 we launched a crowd funding campaign to help us complete a barn that we started in 2013. This building is essential for our next steps and continued viability as a small, family owned and operated farm. It will house our animals in winter, tools, farm equipment, hay, feed and seed. It will also provide us with a dry space for building projects, food processing and educational workshops.

The idea is that we raise all the funds ($10,000) over 30 days and then provide rewards to all of those who chipped in. We will be sharing many rewards, including T-shirts, site consults, CSA shares, farm dinners and life-long memberships. Whatever value is put in, is returned over the next three years (or sooner, for smaller rewards).

The timing of this is structure is critical to us and the benefits to Village Roots and the local food community will be huge.

Thanks for reading and talk to you all soon,
Marty, Ellen and Joules
Please consider donating now and reach out to three other people who you know support the cause of more local food, that is sustainably and humanly raised. Click to learn more...
2018 CSA options
If you are looking for farm food this summer, and want to support a family owned and operated farm, consider supporting Village Roots.

Ellen and Marty have been farming at Orchard Hill for 13 years and continue to emphasize soil regeneration, renewable energy, community food security and growing nutrient dense foods. Check out some of our options on the order form below.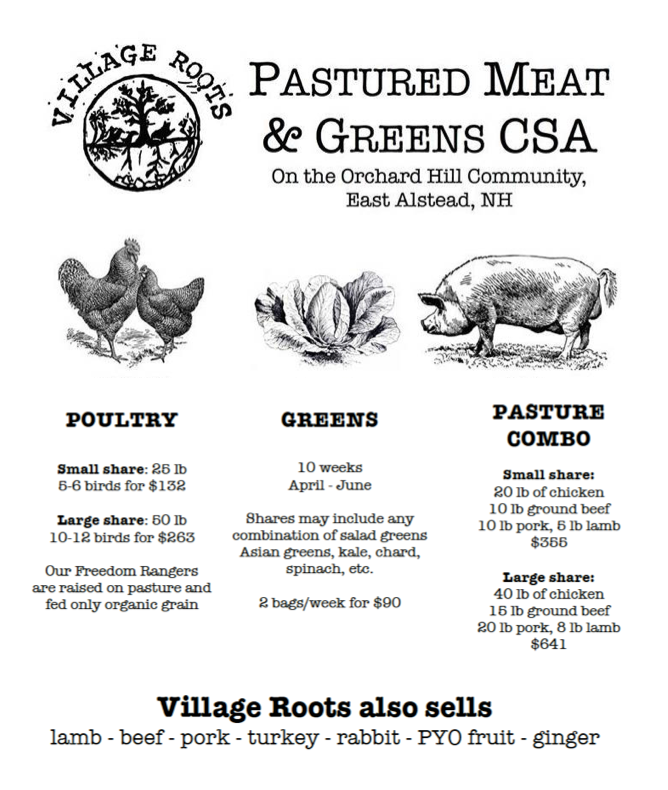 Photos from the2017 Permaculture Design Certification course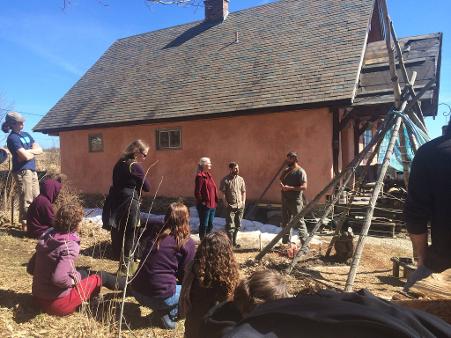 Devin Smith from Witness Oaks Polyculture prepares
the group for a grafting workshop at Village Roots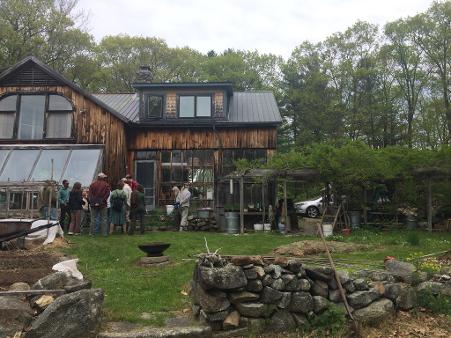 The homestead at Gap Mountain Permaculture.
Check out those kiwis!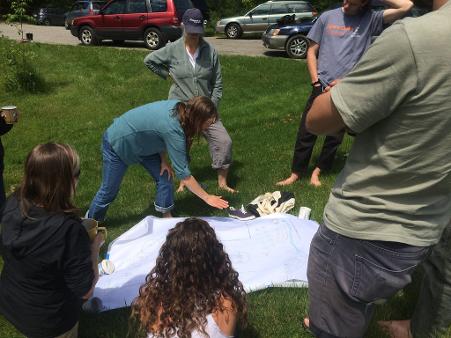 Students share group designs for feedback.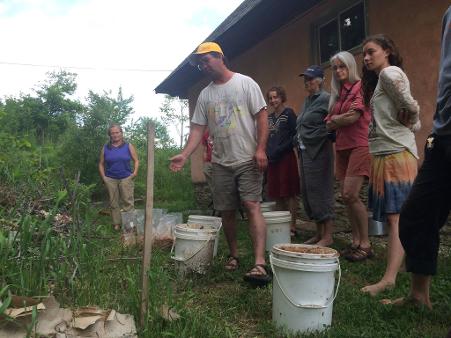 David Wichland demonstrating how to inoculate hugel beds with mycelium - with Irene LeMessurier.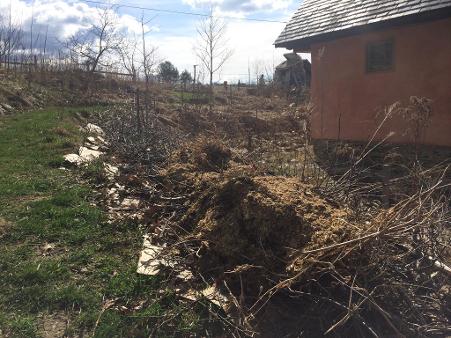 Starting new hugel beds at Village Roots.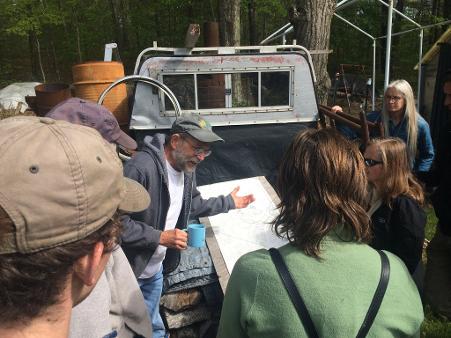 Doug Clayton from Gap Mountain Permaculture shares
with us his original design for the site.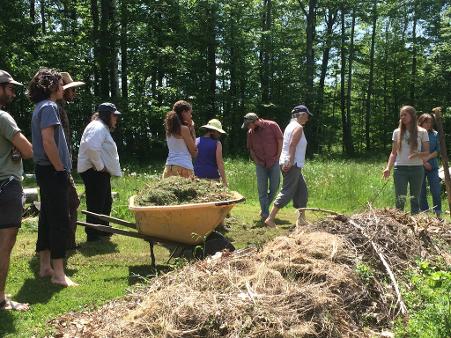 A site visit to Jonah Ruh Roberts' homestead in Unity, NH offers the course a glimpse into growing medicinal herbs, planting guilds,
zone design, climate batteries and much more.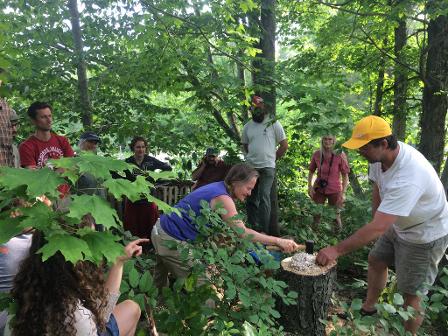 Inoculating a cherry stump at Village Roots
with David Wichland - with Nicholas Tuff.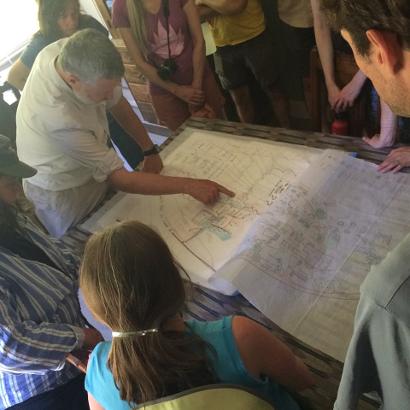 Leon Malan's site design at his woodland homestead in Andover, NH.