Welcome to Village Roots
Village Roots is a small, diversified farm on the Orchard Hill Community in East Alstead, NH that uses a holistic approach to food production. We use intensive integration of plant, animal and fungal systems to produce high quality food, while striving always to build fertility.

A permaculture design approach has allowed us to work with, rather than against the land that we steward. It is our goal to use and share this approach as a means by which to rekindle the rich legacy of food production in our region. By building diverse and interdependent farm ecosystems, with humans as keystone species, we can heal land, build soil, sequester carbon and secure our local food network.

As producers, we specialize in pasture-raised meats, extended season vegetables, herbs and fruits. We are experimenting with more perennials, and hope to offer more pick-your-own fruit in the future as well as nuts and nursery trees.

In addition, Village Roots grows, designs and implements systems that include renewing fertility, perennial food production and natural building as fundamental components needed to establish regenerative human habitat.
Village Roots
Offerings for 2016
Sign up for Spring Greens Shares and Summer and Fall Meat Shares

Tanned sheep hides will be available in May
Grass-Fed Ground Beef still available
Summer Apprenticeships
Contact us for information and pricing at marty@theorchardschool.org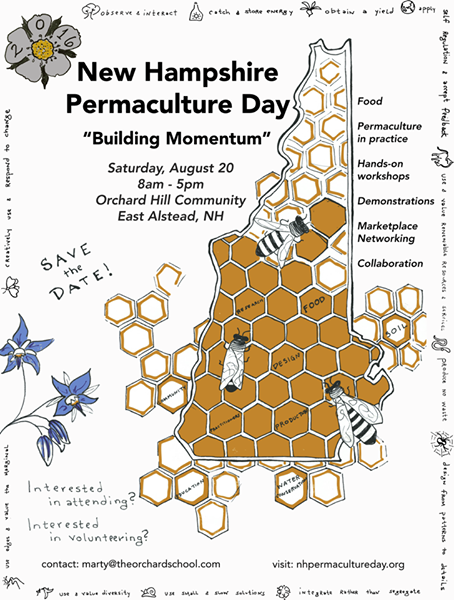 Call for Presenters!
At the heart of NH Permaculture Day, there is a mission to build and strengthen the permaculture community through varied learning opportunities, and to celebrate this through such a statewide gathering. Do you have a presentation you would like to share?

Find more information here:
Presenter Registration Packet
Or contact:
Marty Castriotta
Call for Vendors!
The Permaculture Day Marketplace is a unique opportunity to showcase your business or non-profit organization. The Marketplace is open to vendors offering locally-produced, handmade products, or offering services and/or education correlating to permaculture.

Find more information here:
Vendor Registration Packet
Or contact:
Vendor Coordinator Val White
Our first lambs of the year were born on Leap Day 2016!